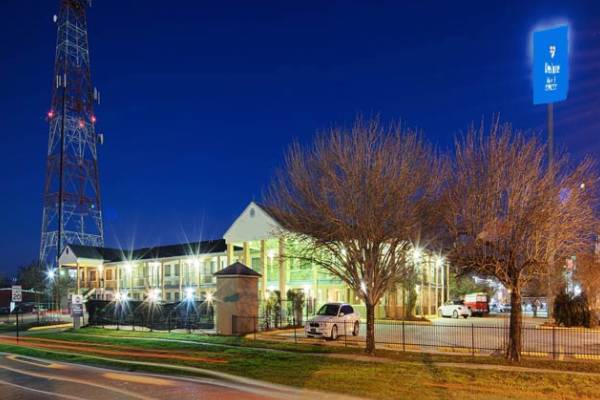 This Morgan City hotel is an excellent choice for travelers seeking relaxation and rejuvenation.
Welcome to Deluxe Inn & Suites Morgan City, the right idea when you're seeking a Morgan City Hotels Louisiana for either business or pleasure travel. Rest and relax with us at this budget property that's close to great restaurants and everything else this area has to offer.
Amenities that help you get the most from your time at the property include an outdoor pool, free wifi, free local calls, free parking for cars and trucks and 24-hour desk service. In your clean, pleasing room, expect a microwave and fridge plus hair dryer and modern 43-inch television with expanded cable. We have everything you need to feel great about your time in Louisiana.
When you make us your pick of Morgan City, Louisiana hotels, you'll be close to the delicious oysters at Atchafalaya Cafe, near Lake End Park, Brownell Memorial Park and more. Also close at hand are Southwest Reef Lighthouse, Swamp Gardens & Wildlife Zoo and Lake Palourde. Indeed, there's always something to see or do around here.
At Deluxe Inn & Suites Morgan City, we're here with friendly service and budget-friendly room when you need us. Please reserve now using this website – and we'll see you soon. It will be a pleasure and honor to serve you.
&nbsp
Business Travel This hotel in Morgan City LA is designed with business travel on a budget in mind. If you're looking for extended stay hotels in Morgan City LA where you can get great value and also relax in comfort during you business trip, there's no better place than Deluxe Inn & Suites. Hotels around here can vary significantly in quality, but you owe it to yourself to make an astute selection and pick our property – where you can have your needs met and your expectations exceeded. We make a great hotel near Louisiana Technical College and hotel near Cajun Coast Convention Bureau too. From the moment you arrive for your stay, you'll realize you've made a good choice.... Family TravelFor family travel, Deluxe Inn & Suites is tops among hotels in Morgan City, Louisiana for value. With free wifi, free local calls, free parking and many other amenities aimed at family travel, you can expect a great experience that will satisfy every member of your family. This long term or short term stay hotel in Morgan City LA is nice enough and safe enough when traveling with children yet still comes at an affordable rate. Indeed, you need not worry when staying at this property. The experience at this hotel near Lake End Park Morgan City LA is tailored so that every member of the family gets a memorable stay. Affordable StayWhen looking for affordable pet-friendly hotels in Morgan City, Louisiana or perhaps a hotel near Cajun Coast Convention Bureau, pick Deluxe Inn & Suites. Our independent property is locally owned and known for affordable accommodations that meet the needs of all kinds of travelers. But this property offers more than that. Along with affordability and pleasing surroundings comes convenience. Those looking for Morgan City LA motels when on a budget will find a great rate at this property. While some properties in the area can be expensive, we focus on being affordable, comfortable and convenient. Why not make this hotel your first pick in the area? It's a shrewd decision that will serve you well. Comfortable Stay Nothing else matters in your selection of Morgan City, Louisiana hotels if you can't get a safe and peaceful stay. Deluxe Inn & Suites is a Morgan City, Louisiana pet-friendly hotel that offers a peaceful and safe experience that also features convenience to the highway to make reaching the property easy. Other motels in Morgan City LA may offer a similar experience, but why take chances? Forget about the others and make this your first pick. From the moment you reach the property, you'll feel safe. Then, you can enjoy a nice rest and wake up to a great day of business or pleasure. What could be better? After all, peace and quiet are a large part of what any hotel stay should be about. Lake End Park has a marina and plenty of opportunities for lakeside recreation and more. International Petroleum Museum & Exposition, Inc. is your place to tour an actual oil rig and learn how it works. Southwest Reef Lighthouse is a unique structure you must see, built to guide vessels around a reef. Brownell Memorial Park & Carillon Tower is a peaceful place with trails, a stunning tower and much more.
For any assistance on Accessibility Room availability and Hotel facility information, Or for any special requests kindly contact Hotel : +1 (985) 385-9175
Comfortable Accommodations
Deluxe Inn Morgan City, La offers guests an array of room amenities including air conditioning, a refrigerator, and a kitchenette, and getting online is possible, as free wifi is available.
Frequently Asked Questions about Deluxe Inn & Suites Morgan City